Schon gesehen? Unser neustes Musikvideo "Romanze im Perfekt" ist auf YouTube.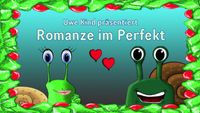 In "Romanze im Perfekt" schwelgen zwei Salatschnecken in Erinnerung und träumen von ihrer gemeinsamen Zeit. Reguläre und irreguläre Verben in Gegenwart, Vergangenheit und Präsens Perfekt nicht nur als Spass zum ansehen, sondern auch als wunderbare Übung für den Deutschunterricht. 
Zum Musikvideo "Romanze im Perfekt"  gibt es auch eine Lehrerhandreichung und reichliche Übungen. Die Lehrerhandreichung und die Übungen sind erhältlich wenn ihr auf den folgenden Link klickt.
---

Check out our newest music video "Romanze im Perfekt" on YouTube.  "Romanze im Perfekt" is about two love-struck snails who reminisce in the perfect tense of regular and irregular verbs. The video is not only fun to watch, but it's a wonderful tool for teachers to assist students in the understanding of irregular verbs, present past, and the present perfect tense.  We've also created a teacher's guide and classroom exercise booklet that accompany the music video. For more information or to purchase these amazing tools click on this link!